Things to do in Bangkok, places to eat, getting around, where to stay and more to enable you to thoroughly enjoy the vibrant experience of……
"The Big Mango "
Cuisines of all styles from around the world, bars of all types, every mode of transport possible, shopping malls, street food, and early morning or night markets are all part of city life here.
Even beautiful parks and temples of golden beauty among the high rise buildings and hot chaos coexist.
Places to Eat
I doubt there's a street in Bangkok that doesn't have a restaurant, street stall, fried rice shop or some kind of food being cooked and sold. It's one major things I would miss from living in BKK is the amazing amount of food choices.More Here….
Popular Restaurants
Chidlom – King Kong Buffet
Phrom Phong – Queens Park Hotel Buffet
Chidlom – Food Loft
Silom – Lebanese Beirut Restaurant
Asok – Papa's Fisn n Chips
Asok – Pullman Hotel Buffet
Museums

Museums in Bangkok are interesting in terms of getting to know some of the history of Thailand and how Thai people have lived, and of course Theravada Buddhism. More Here….
Popular Museums
Parks & Gardens

The super clean parks have water features, lakes, pedalos, tai chi and aerobic classes and beautiful flower arrangements. More Here…..
Popular
Lumpini Park
Suan Luang Rama IX
Suan Luang Rama IX Flower Show
BTS Stations (skytrain) Sukhumvit Line – What's Near
Asok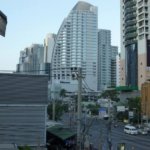 Asoke is one of the main action areas in Bangkok. No end of places to stay, drink and eat and a connection stop for the MRT (underground). More here….
Popular
Ekkamai

Situated next to Ekkamai main bus station, Ekkamai is more of a trendy and hip persons, and expat area more than a tourist spot. More Here….
Popular
Restaurant – Bourbon Street Western/American
Restaurant -Tastiest Udon Curry Ekkamai
Restaurant – Gyudon (Japanese Style)
Massage – Health Land
Bang Chak

Bang Chak is further out from Asok and just past On Nut. Not a tourist area, but close to the main Sukhumvit areas.
More Here…..
Popular
Punnawithi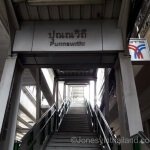 Great area to stay with many expats located here. Places to eat, shopping and hotel options. Not far from the city but out the way of the main tourist spots. More Here…..
Popular
Restaurant (Western)- Devilish Eats
Restaurant (Thai) – Golden Bay Leaf
Restaurant (Western)- 101 One O One
Restaurant – Shinla Korean Barbecue
Hotels Near Punnawithi
Shopping & Eating Piyarom Place
Swimming Pool – Wanjira
Coffee Shops Punnawithi
---
What's New? Bangkok
Recent Bangkok articles added……..keeping you up-to-date and in the know. More Here…
What's New? Thailand
All Thailand articles added recently……..keeping you up-to-date and in the know. More Here…