Air Itam dam is not one the most popular of tourist destinations on the Island of Penang. Many visitors arrive at Air Itam to visit the popular and beautiful Penang Hills and Kek Lok Si temple.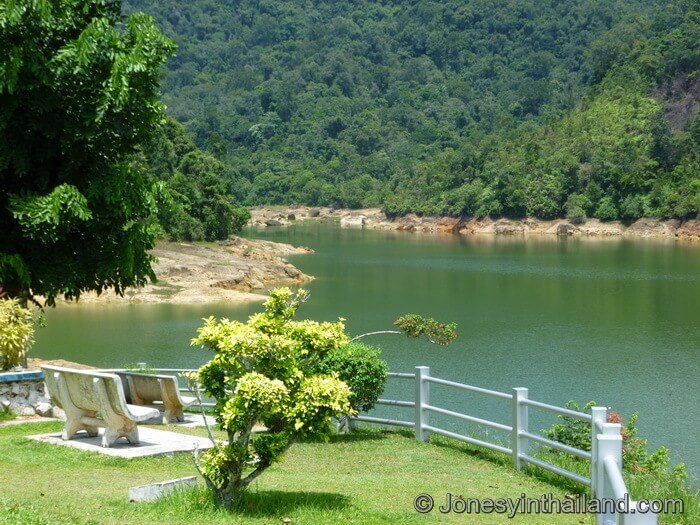 It would be a tough day and exhausting to visit Penang Hill, Kek Lok Si and the Dam in one hit, however, I still wanted to do a write up because it's beautiful and some of you guys might want to make it up there.
Fortunately I have a Malaysian friend (Ching) that lives in Air Itam with her house situated on the way up to the Dam and she suggested a visit on the back of her motorbike (Ahhhhh – it was fine).
If you're a keen walker, like a bit of a challenge and love nature it's well worth a trip and possible to visit the Dam then Kek Lok Si on the way back (Kek Lok Si is on the way up the hill to the Dam). I would choose a cooler time of the day though – early morning and have a pack with snacks and hydration drinks.
Most people need transport to get up the hill which is one reason you won't see many tourists.
About Air Itam Dam
Officially opened in 1962, Air Itam dam is 700 ft above sea level and one of the three Dams built on Penang Island. Air Itam also known as Ayer Itam is situated North-East of the Island, 7 KM away from Georgetown and has a number of the most popular tourist attractions situated here including Kek Lok Si temple, as mentioned.
Weekends and public holidays it gets very busy with Penang residents visiting which can make it difficult for parking.
Normal weekdays this area is very peaceful and various spots can be cool when walking under the trees, reminding me of forest walks I have made in the past while living in England. We passed monkeys and my friend warned me they can become aggressive if provoked or they feel threatened.
There are trails leading from Air Itam dam to some of Penang hills but we just walked the 2.8 KM round trip after parking up the motorbike outside the small car park. The 2.8 KM walk was just about right 'not too much and enough' which starts at the car park and ends there.
The views over Georgetown are fantastic and such a contrast from after coming from the city and then viewing it from a natural environment.




While walking you'll notice small natural streams. The pathway is more than suitable for walking or cycling.


Near Air Itam Dam
Most visitors to Air Itam will be visiting Penang hill and/or Kek Lok Si temple with its impressive views. Just down the road from Kek Lok Si temple there are a number of places to eat and you might want to try some Laksa noodle soup that's cheap, full of herbs and spices and delicious.
After this visit I can see it could be useful for tourists that really enjoy hillside environments and walking to spend a couple of nights in Air Itam town. A day for the Penang hills and another day for Air Itam Dam and Kek Lok Si temple. There are not many accommodation choices, however, there are a couple of good choices and well priced.
Friendly
One thing that stood out for me when my friend had business to attend to and left me to stroll around the town was how very friendly the people were compared to the City (normal – the case with most cities). I had conversations with vendors and generally felt very relaxed.
Getting There
Most people visiting the Dam are going to drive a car or use a motorbike. I did not see one foreigner there until I came back down to Kek Lok Si temple.
Bus to Air Itam: These numbers are ones I know go to the town – 201, 202, 203 and 204. These run from the Jetty bus station, Chulia street and Komtar bus station. There may be other and if you're unsure you might want to head to either the Jetty or Komtar or ask the hotel staff for advice.